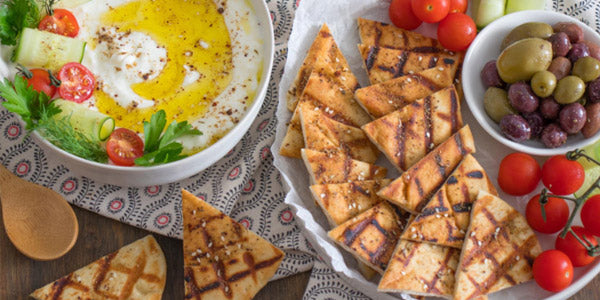 Marinated Greek Yogurt with Grilled Pita Chips
Ingredients:
Serve with:
Cherry tomatoes
Mixed Greek olives
Cucumber slices
Fresh dill sprigs
Fresh parsley sprigs
Directions:
Drain yogurt using a clean dish towel or several layers of cheesecloth. Squeeze as much liquid out of the yogurt as possible, place yogurt in the refrigerator overnight to drain further.
Once the yogurt has drained, remove from the cloth and place in a bowl along with the Oregano Balsamic and stir to combine. Keep refrigerated until ready to serve.
Preheat an outdoor grill or grill pan over medium-high heat. Brush pitas with oil and season both sided with za'atar.
Grill pitas for 2-3 minutes, flipping halfway though, until slightly crips and lightly charred. Remove from the grill and cut into wedges.
Place yogurt into bowls, drizzle with Arbequina EVOO and sprinkle with za'atar seasoning.
Serve with pita chips, tomatoes, olives, cucumber slices and herbs.