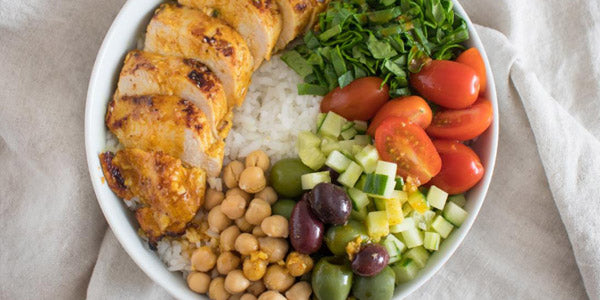 Mediterranean Chicken and Rice Bowls
Ingredients:
⅛ cup Apricot Balsamic
4 minced garlic cloves
½ teaspoon ground cumin
¼ teaspoon turmeric
¼ teaspoon coriander
¼ teaspoon paprika
¼ teaspoon salt
4 boneless skinless chicken breasts
1 cup basmati or brown rice
2 cups chopped baby spinach
1 cup canned chickpeas
1 cup halved cherry tomatoes
1 cup diced cucumbers
1 cup pitted olives
Directions:
In a medium bowl,combine Cilantro & Onion olive oil, Apricot balsamic, garlic, cumin, turmeric, coriander, aprika, salt and pepper, whisk until blended.
Place the chicken in a casserole dish or a large plastic zipper bag.
Add half of the dressing to the chicken and toss to coat and refrigerate for 1 hour.
Preheat the oven to 400°F. Place marinated chicken on a baking sheet and roast for 12-15 minutes or until thoroughly cooked.
Remove from the oven and set aside to rest for 5 minutes before slicing.
Cook rice according to the instructions on the package.
To serve, divide rice and chicken between bowls and top with spinach, chickpeas, tomatoes, cucumbers and olives.
Drizzle with remaining dressing.