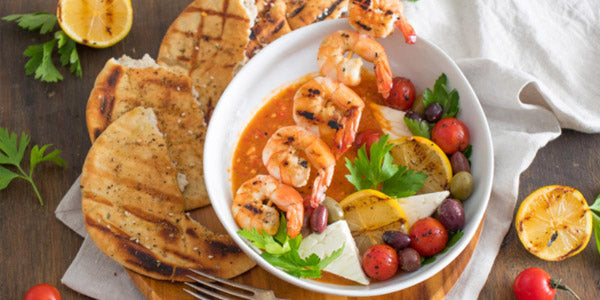 Directions:
Preheat an outdoor grill or grill pan to medium-high heat.
Combine Santorini Oregano balsamic vinegar, Koroneiki EVOO and garlic in a large bowl and whisk to combine the marinade.
Add shrimp, onion and tomatoes and toss to coat.
Thread marinated shrimp, tomatoes and onions on skewers, Grill skewers until the ship is cooked though and veggies are slightly charred.
Remove from the grill, cover ship skewers with foil to keep warm.
Place pitas or naan and lemon sleeves on the grill for 1-2 minutes, or until grill marks form. Remove from the grill and set aside.
Place half of the frilled tomatoes in a food processor along with onions and salt. Blend until combined and slightly chunky.
Divide sauce between bowls and top with shrimp, reserved grilled tomatoes, lemon sliced, olives, geta and parsley.