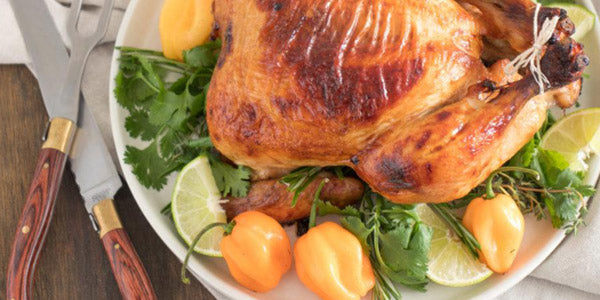 Habanero & Honey Brined Chicken
Ingredients:
Brine:
Garnish:
Fresh herbs
Citrus wedges
Habanero peppers
Directions:
Combine water, salt, sugar and Habanero & Honey balsamic vinegar in a large pot over medium-high heat.
Heat brine, whisking occasionally, until the sugar and salt dissolve. Remove from the heat and let cool to room temperature.
Place chicken in a large pot or duch oven and cover in brine. Convert the pot and refrigerate for a minimum of 24 hours or up to 3 days.
Preheat the oven to 425°F. Place a rack in the middle of the oven.
Remove chicken from the brine, rinse and pat dry with paper towels. Place chicken in a roasting pan and brush with 1 tablespoon of Blood Orange olive oil.
Roast chicken for 1 ½ hours, brushing the chicken with oil every 30 minutes, until cooked though.
Remove from the oven and let rest for 5 minutes before serving.