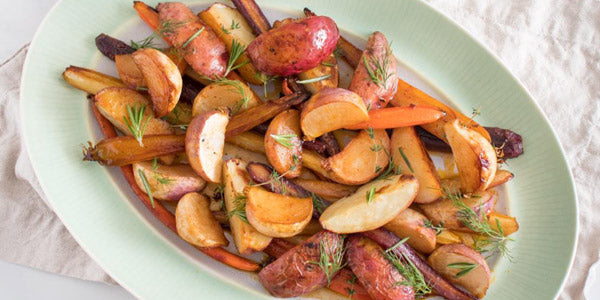 Garlic & Herb Roasted Root Vegetables
Ingredients:
2 tablespoons Garlic Olive Oil
2 tablespoons Dill Olive Oil
4 tablespoons Blanco Balsamic Vinegar
1 tablespoon honey
1 teaspoon smoked paprika
1 teaspoon salt
2 turnips, cut into wedges
4-6 red bliss potatoes, cut into wedges
2 parsnips, peeled and halved
3-4 carrots, peeled and halved
Directions:
Preheat the oven to 400°F.
In a large bowl, combine olive oils, balsamic vinegar, paprika, salt, and pepper, whisk to combine.
Add veggies and toss to coat.
Transfer veggies to a large baking sheet and arrange in a single layer.
Place in the oven and roast for 25-35 minus or until tender.
Remove form the oven and garnish with rosemary, thyme, and dill before serving.