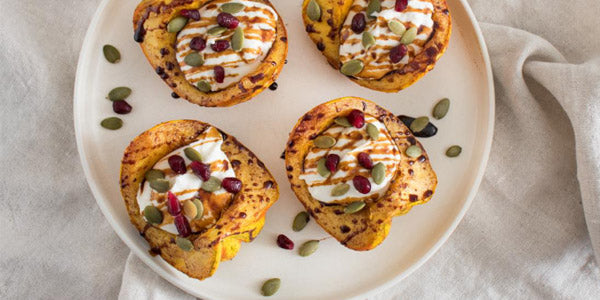 Winter Squash with Whipped Ricotta
Ingredients:
2 tablespoon Blood Orange Olive Oil
1 tablespoon Honey Ginger Balsamic
½ teaspoon ground cinnamon
¼ teaspoon ground nutmeg
½ teaspoon salt
Pinch of black pepper
2 acorn or carnival squash, cut into halves
¾ cup Fig Balsamic
1 cup whole milk ricotta
¼ cup pepitas
2 tablespoon pomegranate arils
Directions:
Preheat the oven to 400°F. In a large bowl, combine Blood Orange olive oil, Honey Ginger balsamic, cinnamon, nutmeg, salt and pepper, whisk to combine.
Add the squash halves and toss to coat. Transfer the seasoned squash to a baking sheet and roast for 15-20 minutes or until tender.
While the squash are baking, bring Fig balsamic to a simmer in a small saucepan over medium heat.
Once simmering, reduce heat to low and continue to cook until reduced into a glaze.
Palace ricotta in a bowl of a stand mixer fitted with the whisk attachment and beat until fluffy and smooth
To serve, dollop whipped ricotta over squash and drizzle with reduced balsamic.
Sprinkle it with pepitas and pomegranate for garnish and crunch.