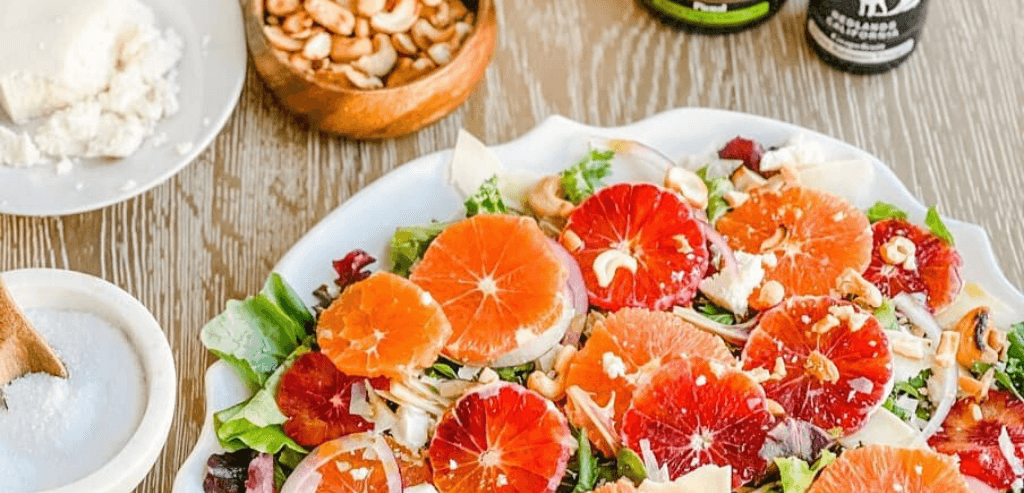 Ingredients
Salad:
2 peeled & sliced Cara-Cara oranges
2 peeled & sliced Blood oranges
¼ cup of chopped kale
1 cup of salted cashews that have been toasted
1 cup of queso fresco or feta cheese
½ cup of shaved parmesan cheese
2 half avocados
Grapefruit Vinaigrette:
Directions:
Make the vinaigrette by placing mustard, honey, salt, pepper, & black lime into a bowl then whisk in grapefruit white balsamic. Whisk until smooth.
Slowly drizzle in the extra virgin olive oil while whisking at the same time. Alternatively, you can use a hand blender or a mason jar to blend the vinaigrette together.
In a large bowl add the kale and add 1 to 2 tablespoons of the grapefruit vinaigrette. Massage the kale with your hands to start seasoning the kale and then add the rest of the greens.
Layer in your sliced Cara Cara oranges and blood oranges with the thinly sliced red onion & avocado onto the greens.
Portion out into four bowls or keep it as one large salad and drizzle as much vinaigrette as you would like, then top with Queso fresco, Parmesan, & toasted cashews. Adjust for seasoning.