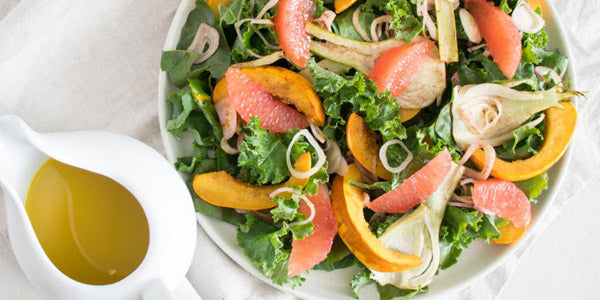 Ingredients:
1 tablespoon Champagne Vinegar
2 tablespoons Pink Grapefruit Balsamic
1 tablespoon honey
1 tablespoon Dijon mustard
½ cup Arbequina EVOO
1 squash cut into wedges
1 sliced large shallot
½ thinly sliced bulb fennel
½ teaspoon ground cumin
¼ teaspoon cinnamon
½ chopped bunch kale
1 chopped bunch swiss chard
1 segmented grapefruit
Salt and pepper to taste
Directions:
Preheat the oven to 350°F. While the oven is preheating, combine balsamics, honey, and dijon in a medium bowl, whisk to combine.
Slowly whisk in Arbequina EVOO in a thin steam until blended. Season to taste with salt and pepper, refrigerate until ready to serve.
Place squash, shallot, and fennel on a baking sheet. Drizzle veggies with ⅛ cup of vinaigrette, season with cumin and cinnamon and place in the oven. Roast veggies for about 15 minutes or until tender and slightly golden brown. Remove from the oven and let cool to room temperature.
Divide kale and chard between plates, top with grapefruit segments and roasted veggies.
Drizzle with remaining dressing right before serving.