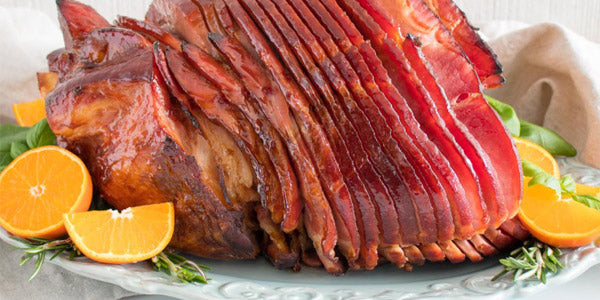 Tuscan Tangerine Glazed Ham
Ingredients:
Garnish:
Tangerines
Basil
Rosemary
Thyme sprigs
Directions:
Preheat the oven to 350°F. Line a roasting pan with aluminum foil and insert a wire rack. Remove the ham from the refrigerator and let rest at room temperature for 1 hour before roasting.
Combine Tuscan Herb olive oil, Tangerine balsamic, brown sugar, honey, and mustard in a medium saucepan, whisk to combine.
Slowly bring the glaze mixture to a simmer over medium heat, whisking frequently, simmer for 1-2 minutes or until the sugar has dissolved and set aside.
Place ham on the wire rack and pour broth into the bottom of the pan.
Brush with about ½ cup of the glaze, loosely cover the roasting pan with foil, and place in the oven. Bake, covered for 1 hour.
Remove the pan from the oven, uncover, and baste with the pan drippings. Brush the ham with another ½ cup of glaze and increase the oven temperature to 425°F.
Return the ham to the oven and continue to cook for 30 minus, brushing with additional glaze every 10 minutes.
Keep a close eye on the ham, if left unattended the glaze may burn.
Remove the ham from the oven and let rest for 10 minutes before serving.
Garnish to serve.