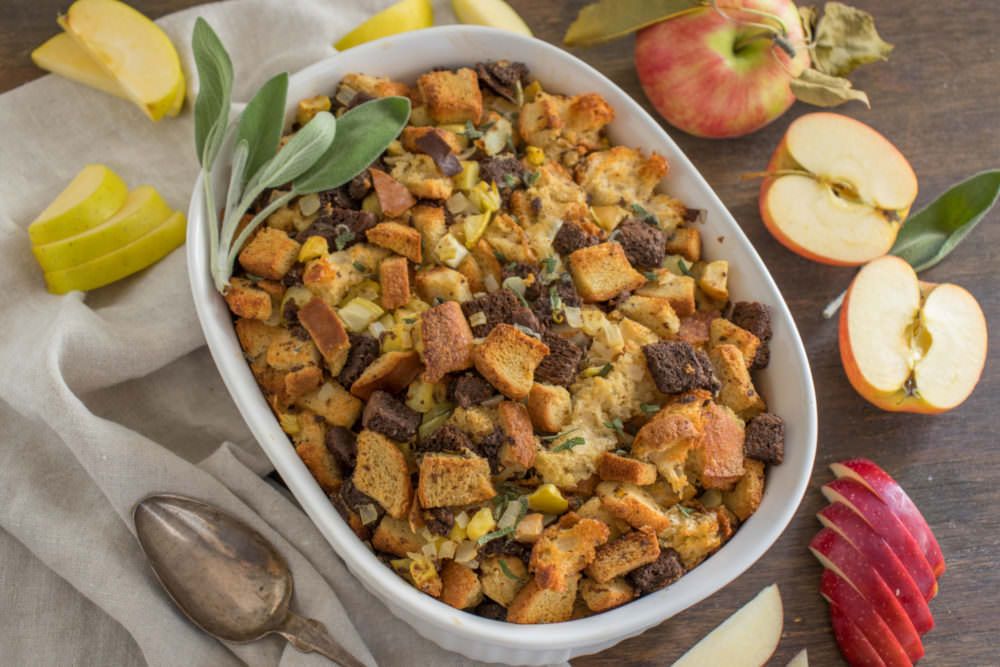 Ingredients
13 cups sourdough bread, cut into cubes
3 cups rye bread, cut into cubes
3 cups pumpernickel bread, cut into cubes
4 tablespoons Mushroom and Sage EVOO
1 minced yellow onion
1 diced bulb fennel
3 cored and diced apples
⅔ cup chopped pecan halves
⅔ cup chopped pecan halves
2 cups chicken or turkey stock
2 eggs
1 teaspoon salt
½ teaspoon cracked black pepper
½ teaspoon chopped fresh sage
Directions
Preheat oven to 350°F and place bread cubes on baking sheets and toast in oven until crispy
Heat oil in a large skillet. Once hot, add onion, fennel, and apples. Saute until tender
Place bread cubes and veggies in a large bowl. In a separate bowl, combine vinegar, stock, eggs, salt, and pepper, whisk to combine
Pour mixture over the other ingredients and toss to combine                          
Transfer stuffing to a casserole or baking dish and cover with aluminum. Place in the oven and bake for 30 minutes            
Remove foil and continue to bake for another 30 minutes until toppin is crisp
Top with chopped sage before serving.