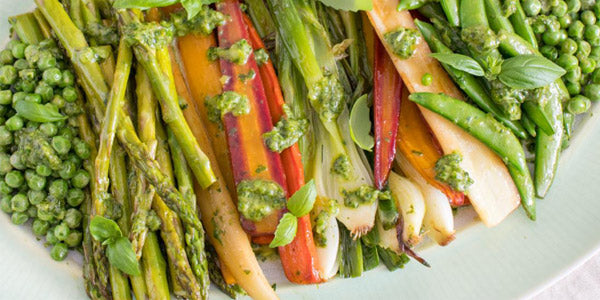 Vinoso-Basil Spring Veggies
Ingredients:
1½ cup chopped spring onions or scallions
¼ cup chopped fresh mint leaves
¼ cup chopped fresh basil leaves
½ cup Basil Olive Oil
½ cup Sherry Wine Balsamic
4-5 tri-colored halved carrots
1 bunch trimmed asparagus
2 cups snap peas
1 cup fresh spring peas
3 minced garlic cloves
Pinch of salt and pepper
Directions:
Combine mint, basil, 1 cup of onions, ¼ cup Basil olive oil, ¼ cup Vinoso Wine balsamic, salt and pepper together in a bowl of a food processor, blend until smooth. Place in the refrigerator until ready to serve.
Heat remaining Basil olive oil in an extra large skillet over medium-high heat. Once the oil is hot, add carrots and saute until tender-crisp.
Add asparagus, onions, snap peas, spring peas, and garlic. Continue to saute until all the vegetables are tender.
Deglaze the pan with vinegar and season to taste with salt and pepper.
Place veggies on a large platter or divide between plates. Drizzle with salsa verde before serving.