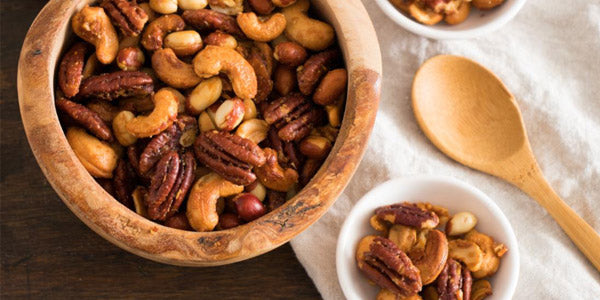 Tangy Harissa Roasted Nuts
Ingredients:
1 cup cashews
1 cup peanuts
1 cup almonds
1 cup pecans
3 tablespoon Harissa Olive Oil
2 tablespoons Citrus Mint Balsamic
3 tablespoons brown sugar
1 teaspoon ground cumin
1 teaspoon coriander
1 teaspoon salt
Directions:
Preheat the oven to 400°F. Line a baking sheet with parchment paper.
In a large bowl combine cashews, peanuts, almonds and pecans.
In a smaller bowl, add Harissa olive oil, Citrus Mint balsamic, brown sugar, cumin, coriander and salt and whisk to combine.
Drizzle over the nut mix and toss to combine.
Evenly spread out on the prepared baking sheet and bake for 15-20 minutes or until golden brown and crispy.
Set aside to cool completely before serving.