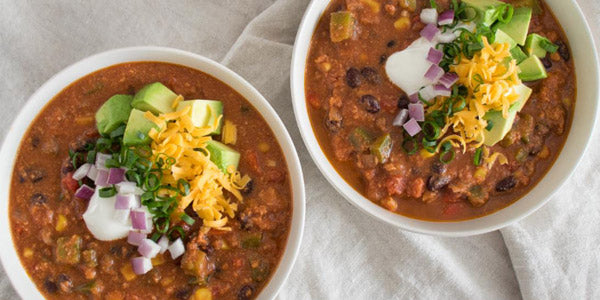 Ingredients:
3 tablespoons Chipotle Olive Oil
1lb. ground turkey
3 minced garlic cloves
1 minced yellow onion
1 chopped red bell pepper
1 chopped green bell pepper
1 tablespoon ground cumin
2 teaspoons chili powder
1 teaspoon salt
3 tablespoon Chocolate Balsamic
1 15oz can corn kernels
1 15oz can black beans
1 15oz can tomato sauce
1 14.5oz can diced tomatoes
¼ cup tomato paste
2 cups chicken or vegetable broth
Directions:
Preheat the slow cooker setting to saute and add Chipotle olive oil.
Once hot, add ground turkey and sear until brown.
Add garlic, onion, bell peppers, cumin, chili powder, and salt. Saute until tender and fragrant, about 2-3 minutes.
Add Chocolate balsamic, corn, bkack beans, tomato sauce, diced tomatoes, tomato paste and broth. Stir to combine.
Change setting to slow cook, cover and continue to cook for 2 hours.
To serve, divide chili between bowls and top with your favorite toppings.