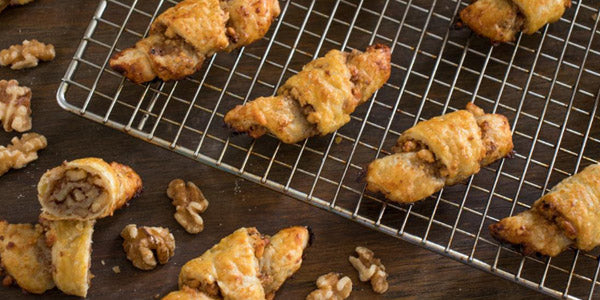 Ingredients:
4 tablespoons melted butter
¼ cup Plum Balsamic
⅓ cup granulated sugar
1-2 tablespoons all purpose flour
1 sheet puff pastry
1 cup shelled walnuts, chopped
1 egg yolk, beaten with 1 teaspoon of water
Caster sugar for sprinkling
Directions:
In a small bowl, whisk to combine butter, Plum balsamic, and sugar. Set aside.
Sprinkle your work surface with a little flour and roll teh puff sheet into a large 12x12 square. Brush the square evenly, with balsamic-butter mix and sprinkle with chopped walnuts.
Cut the pastry into large even squares and divide those squares into 2 triangles.
Roll the triangles, starting at the long side. Press the point of the triangle into the pastry to seal.
Place rugelach on a parchment lined baking sheet. Brush each with a little egg wash and sprinkle lightly with caster sugar.
Place the baking sheet into the freezer, chill for 15 minutes or until firm.
Preheat the oven to 375°F. Bake rugelach for 12-15 minutes or until golden brown and cooked through.
Remove from the oven and set aside to cool on a wire rack.