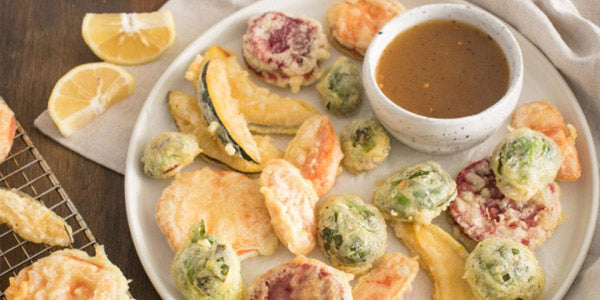 Fall Vegetables with Lemon Melagrana Dip
Ingredients:
Batter:
1 cup all purpose flour
1 cup cornstarch
1 teaspoon baking powder
1 teaspoon salt
1 ½ cups club soda
1 egg
1 acorn squash, cut into thin wedges
1 each carrot, cut into thin slices
1 beet, cut into thin slices
1 sweet potato, cut into thin slices
½ lb. brussel sprouts cut in half
⅛ cup additional cornstarch
Lemon Melagrana Dip:
Directions:
Heat oil in a large high-sided skillet over medium-high heat.
In a large bowl, place flour, cornstarch, baking powder and salt, whisk to combine. Add club soda and egg, which combine the batter.
Place veggies in another bowl and sprinkle with additional cornstarch, toss to coat.
Once the oil is hot, dip veggies into the batter, letting any excess drip off, and fry until light and crispy. You may need to work in batches depending on the size of your pan.
Using a slotted spoon, remove fried veggies and transfer to a paper towel or wire rack to drain.
For the dip, place Lemon olive oil, Melagrana balsamic vinegar, honey, salt, pepper and crushed red pepper flakes in a medium bowl and whisk to combine.
To serve, place veggies on a plate or platter with dipping sauce on the side.