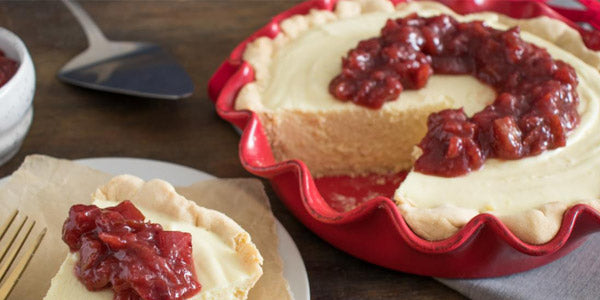 Eggnog Pie with Winter Fruit Compote
Ingredients:
Winter Fruit Compote:
½ cup Citrus Mint Balsamic
1 diced pear
1 diced apple
1 cup fresh or frozen cranberries
3 tablespoons brown sugar
¼ teaspoon cinnamon
1 pie crust
Eggnog Pie:
¼ cup cold water
1 tablespoons unflavored gelatin
2 cups eggnog
⅓ cup granulated sugar
2 tablespoons cornstarch
1 tablespoon dark rum
½ teaspoon salt
1 cup heavy whipping cream
Directions:
Combine compote ingredients in a medium saucepan and bring to a simmer. Dimmer for 8-10 minutes or until fruits have softened and sauce has thickened slightly. Set aside to cool.
Par-bake the pie crust according to the instructions on the packaging. Remove from the oven and set aside to cool completely.
Place water in a medium bowl and sprinkle with gelatin to bloom. Place eggnog, sugar, cornstarch, rum and salt in another medium saucepan and whisk to combine.
Bring to a low simmer on medium-low heat and add in the gelatin. Whisk just until gelatin dissolves and set aside to cool slightly.
Meanwhile, whip heavy cream until stiff peaks form. Once the eggnog mixture has cooled slightly, add whipped cream and gently stir to combine the two.
Spoon filling into the par-baked pie crust and refrigerate until firm.
Serve pie with compote.