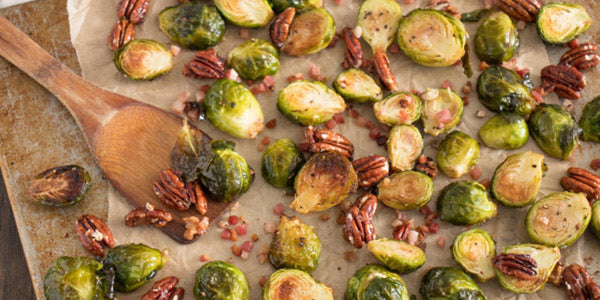 Brussel Sprouts & Pancetta with Melagrana Candied Pecans
Ingredients:
½ cup brown sugar
¼ cup Apple Balsamic Vinegar
½ teaspoon ground cinnamon
¼ teaspoon ground nutmeg
3 cups pecan halves
1 lb. halved brussel sprouts
2 oz. small diced pancetta
2 tablespoons Italian Lemon Olive Oil
½ teaspoon salt
Pinch cracked black pepper
Directions:
Preheat 350°F.
Combine sugar, Melagrana balsamic vinegar, cinnamon and nutmeg in a small saucepan over medium heat. Whisk to combine and bring to a simmer, continue to simmer, for about 3-4 minutes, or until the mixture thickens slightly into a syrup.
Place pecans in a medium bowl, add syrup and toss until coated. Transfer pecans to a parchment lined baking sheet and place in the oven. Bake for 6-8 minutes, or until lightly toasted, and remove from the oven. Let cool and harden at room temperature.
Increase oven temperature to 425°F, and place brussel sprouts and pancetta on another baking sheet, drizzle with Lemon olive oil and season with salt and pepper.
Roast brussel sprouts for 10-15 minutes or until caramelized and tender.
To serve, top brussel sprouts with candied pecans.