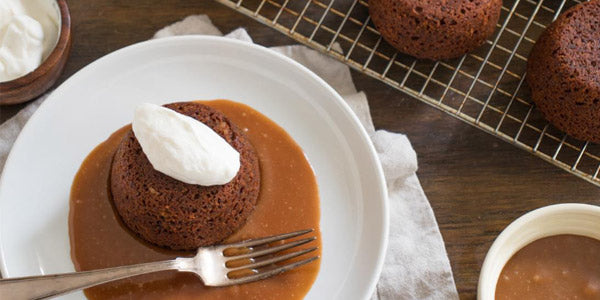 Tangerine Sticky Toffee Pudding
Ingredients:
Cake:
6oz pitted and chopped dates
½ cup Tangerine Balsamic
¾ cup granulated sugar
¼ cup softened unsalted butter
1 egg
1 cup all purpose flour
1 teaspoon baking powder
¼ teaspoon baking soda
¼ teaspoon salt
Toffee:
1 cup heavy cream
1 stick unsalted butter
⅓ cup corn syrup
¾ cup granulated sugar
Directions:
Preheat the oven to 350°F. Combine dates and Tangerine balsamic in a small saucepan and bring to a simmer over medium heat.
Simmer for 5-6 minutes, or until dates are soft. Remove from the oven and set aside to cool slightly. Once cooled, transfer to a food processor and pulse until smooth.
Combine sugar and butter in the bowl of an electric mixer fitted with the paddle attachment. Mix on medium until smooth, slightly fluffy and creamy. Add egg and date-balsamic puree and mix to combine.
In a separate medium bowl, stir to combine the flour, baking powder, baking soda and salt.
Add the flour mixture, a little bit at a time, to the wet mix in the mixer. Stir on medium speed, to combine the batter.
Lightly grease a muffin tin with a pan release spray. Portion the batter into the individual muffin cups, filling each ⅔ of the way full.
Bake for 15-20 minutes, or until the sides of the cakes are firm but the centers are a little soft.Remove from the oven and set aside to cool slightly.
Combine heavy cream, cutter, corn syrup and sugar in a medium saucepan, stir to combine. Bring mixture to a simmer over medium heat, and continue to simmer until the sauce turns amber in color.
Remove from the heat and whisk in the remaining ½ cup of heavy cream. Set aside until ready to serve.
Invert muffin tin on a baking sheet to remove the cakes. Serve cakes with toffee sauce and whipped cream.