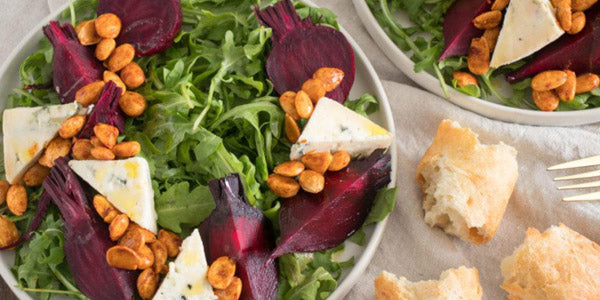 Beet & Bleu Cheese Salad with Smoked Almonds
Ingredients:
2 cups almonds
2 teaspoons Worcestershire sauce
3 tablespoons Blood Orange Olive Oil
1 ½ teaspoons smoked paprika
½ teaspoon garlic powder
1 teaspoon salt
1 lb. beets
½ teaspoon cracked black pepper
3 cups baby arugula
1 wedge bley cheese, crumbled
Directions:
Preheat the oven to 350°F.
In a medium bowl, toss together almonds, Worcestershire, Orange olive oil, smoked paprika, garlic powder and salt until coated and combiked. Place seasoned almonds on a baking sheet and toast for 4-5 minutes.
Remove from the oven and set aside to cool.
Place beets on their own little squares of aluminum foil. Drizzle search with Orange olive oil and season with salt and pepper.
Wrap loosely, place porches on another baking sheet, and place in the oven.
Roast beets for 15-20 minutes or until tender. Remove from the oven and let cool enough for you to handle them.
Peel beets, cut into halves or quarters, and drizzle with any remaining porch drippings.
To serve, divide arugula between plates and top with beets, bleu cheese and almonds and drizzle with a little more Orange Olive oil.