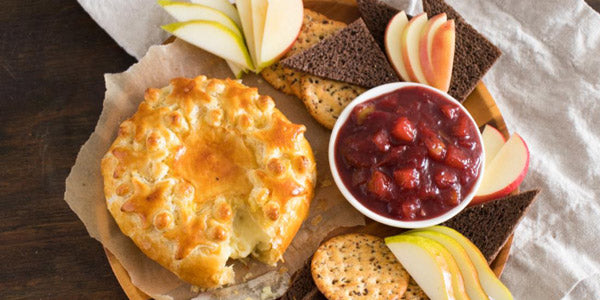 Baked Camembert with Herb Winter Fruit Compote
Ingredients:
2 tablespoons Gremolata Olive Oil
1 cored and diced pear
1 cored and diced apple
1 cup fresh or frozen cranberries
3 tablespoons brown sugar
½ cup Pomegranate Balsamic
¼ teaspoon cinnamon
1 8oz wheel camembert
1 sheet puff pastry
1 beaten egg
Directions:
Preheat the oven to 400°F.
Combine olive oil, pear, apple, cranberries, brown sugar, Plum Balsamic and cinnamon in a medium saucepan. Bring mixture to a simmer over medium heat, stirring frequently, until sauce has thickened and fruits are soft.
Remove from the heat and set aside to cool slightly.
Place camembert in the center of the puff pastry sheet. Pull corners of the sheet toward the center, covering the cheese wheel completely.
Flip the wrapped schee over, and transfer to a baking sheet. Brush with egg wash, coating the entire surface and sides.
Place in the oven and bake for 12-15 minutes or until golden brown.
Remove from the oven and place baked camembert on a platter and serve with compote, crackers, crostini and fruit slices.