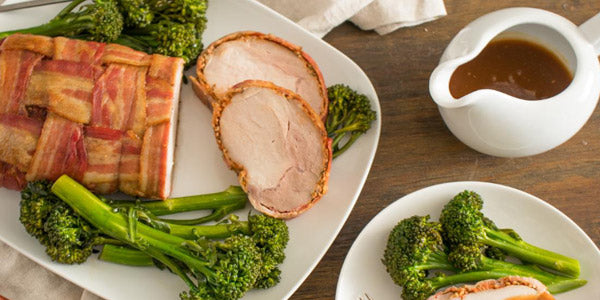 Bacon & Plum Pork Roast with Italian Greens
Ingredients:
2 ½-3 ½ lbs. pork loin roast
1 tablespoon garlic powder
1 tablespoon onion powder
1 tablespoon Italian seasoning
2 teaspoons kosher salt
2 teaspoons smoked paprika
2 lbs. bacon
3 tablespoons Bacon Olive Oil
½ cup Plum Balsamic Vinegar
1 cup pork or vegetable broth
1lb. Bunch of broccoli rabe
1 tablespoon cornstarch
Pinch of salt and pepper
Directions:
Pat the pork loin dry with paper towels. In a small bowl, combine the garlic powder, onion powder, Italian seasoning, salt and paprika. Rub the seasoning mix all over the pork loin.
Weave bacon slices in a 12x12 square. Place the pork roast in the center of the bacon weave and, using the plastic wrap to assist, wrap the roast with the bacon. Wrap the bacon covered roast tightly in the plastic wrap and refrigerate for 2 hours
Preheat the oven to 400°F. Remove slightly. Place Bacon olive oil, Plum balsamic and broth in a medium bowl and whisk to combine.
Pour liquid into the bottom of the roasting pan, cover the pan with aluminum foil, return to the oven and roast for another 30 minutes
Drizzle broccoli rabe with an additional 2 teaspoons of Bacon olive oil and season with salt and pepper.
During the last 15 minutes of cook time for the roast, add broccoli rabe to the roasting pan, nestling it around the roast. Re-cover with foil and return to the oven to finish roasting
Once the pork roast reaches an internal temperature of 145°F. Remove roast and rabe from the oven, transfer to a large plate or platter, tent loosely with foil and let rest for 15 minutes
Carefully pour the pan drippings into a saucepan and bring to a simmer over medium heat. Mix cornstarch in the reserved ¼ cup broth and, once the drippings are simmering, pour into the pan in a thin stream.
Whisk until the sauce thickens slightly and remove from heat. Slice the roast and serve.