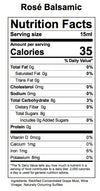 What makes our Olive Oil special?
We always have fresh olive oil every 6 months. Olives are only harvested once in each hemisphere. With our connections to small farms in the Southern Hemisphere, we are able to take advantage of a 2nd growing season which allows us to provide you with fresh olive oil every 6 months.
WHAT MAKES OUR OLIVE OIL SPECIAL?
The Mimosa
I went to the Lot 22 store in Riverside to purchase the Blood Orange olive oil as a hostess gift for some friends we were going to be visiting. When I was in the store, I asked which balsamic vinegar to pair with the Blood Orange olive oil. They suggested the Rose White, and gave me a taste of the combination they affectionately called the "Mimosa". It was so delicious I was sold! I bought the same two bottles for myself, and have been using this dressing on all of my salads since. A delightful, fresh summer salad dressing!
Great salad dressing
The combo was a suggestion from the employee since we love blood orange for brownies. She suggested missing with the rose for a dressing. We were hooked! Love it!!!
Amazing Rose vinegar
Highly recommend this with the blood orange oil! Delicious delicious