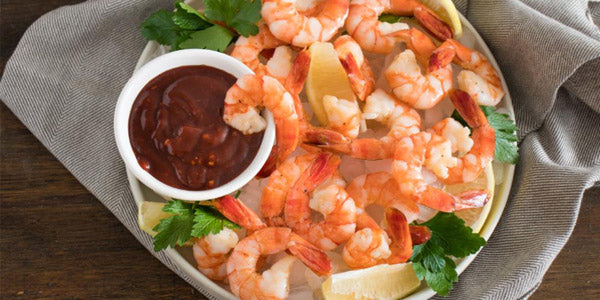 Smokey Shrimp Cocktail with Citrus-Chili Cocktail Sauce
Ingredients:
1lb large raw shrimp
1 tablespoon Cold Smoke Olive Oil
½ teaspoon salt
1 pinch black pepper
Citrus-Chili Cocktail Sauce:
1 tablespoon Tangerine Balsamic
1 teaspoon sriracha
½ cup ketchup
1 teaspoon brown sugar
1 minced garlic clove
Pinch of salt and pepper
Lemon wedges and fresh parsley for garnish
Directions:
Preheat the oven to 350°F. Combine shrimp, Cold Smoke olive oil, salt and pepper in a large bowl, toss to coat.
Transfer shrimp to a baking sheet and palace in the oven. Bake for 12-15 minutes or until the shrimp are no longer opaque and cooked though. Remove from the oven and chill in the refrigerator.
Combine Tangerine balsamic, sriracha, ketchup, horseradish, brown sugar and garlic in a medium bowl, whisk to combine the cocktail sauce. Refrigerate until ready to serve.
To serve, peel shrimp and arrange on a platter with cocktail sauce on the side for dipping.