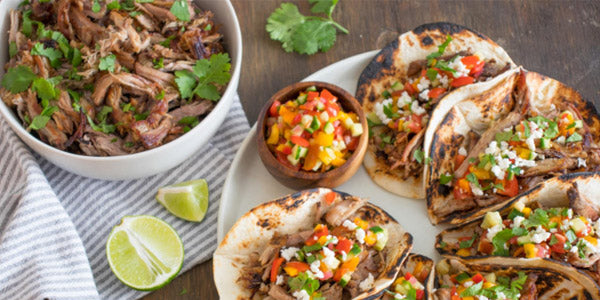 Drunken Crockpot Carnitas with Gazpacho Salsa
Ingredients:
2 teaspoons Koroneiki EVOO
3 lbs. boneless pork butt
½ tablespoon salt
2 tablespoon ground cumin
2 teaspoons dried oregano
5-6 minced garlic cloves
½ cup Jalapeno Lime Balsamic
1 12 oz. bottle Mexican-style lager beer
½ cup diced heirloom cherry tomatoes
½ cup diced cucumber
¾ cup diced bell peppers
2 tablespoons diced red onion
¼ teaspoon smoked paprika
Directions:
Program your slow cooker to saute and drizzle with Koroneiki EVOO.
Once the oil is hot, add pork and sear on all sides. Add salt, cumin, oregano, garlic, balsamic and beer, cover, and reduce heat to slow cook on low.
Cook the carnitas for 6-8 hours or until cooked through and fork tender. Remove from the slow cooker and, using a fork, pull the pork into small pieces. Keep warm until ready to serve.
Combine tomatoes, cucumbers, peppers, onion, balsamic, garlic and paprika in a bowl, toss to combine the salsa.
Season to taste with salt and let the salsa flavors meld together for 30-45 minutes before serving. Serve carnitas with queso fresco crumbles, cilantro, tortillas and lime wedges.