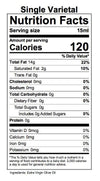 45+ Olive Oils & Vinegars
Award-winning
What makes our Olive Oil special?
We always have fresh olive oil every 6 months. Olives are only harvested once in each hemisphere. With our connections to small farms in the Southern Hemisphere, we are able to take advantage of a 2nd growing season which allows us to provide you with fresh olive oil every 6 months.
WHAT MAKES OUR OLIVE OIL SPECIAL?
Lott 22 Olive Oil
One of my brothers bought me a set of your olive oil for Christmas several years ago. I have been using your olive oil since. Your oils have an amazing taste and I love the variety. I also like that I am able to buy small samples to taste new varsities and also buy them as gifts. I love your Canyon Crest store, your staff are wonderful and very helpful. It's become one of my favorite places to shop.
Love it
My favorite extra Virgin olive oil of all time.
Olives and Oil
Love my Picual olive oil--thanks, Bobbi
Lovely
Wonderful tasting oil. I got the watermelon balsamic vinegar too, which is delicious! Nothing ever dissappoints in this great little store.
Clean, Fresh Flavor!
I love using this olive oil in our homemade salad dressings. It adds a nice depth to green salads.