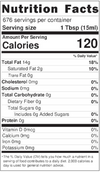 45+ Olive Oils & Vinegars
Award-winning
What makes our Olive Oil special?
We always have fresh olive oil every 6 months. Olives are only harvested once in each hemisphere. With our connections to small farms in the Southern Hemisphere, we are able to take advantage of a 2nd growing season which allows us to provide you with fresh olive oil every 6 months.
WHAT MAKES OUR OLIVE OIL SPECIAL?
Tasty
Very nice 👍 it is sweet and tasty.
Butter Olive Oil Sweet
Great with the Balsamic vinegars also from the wonderful company. Works well on fresh popcorn too.
Butter Olive Oil - SWEET (Vegan)
Sweet Butter Olive oil
I tried to lightly saute raw shrimp Instead of butter tried this olive oil and sauted for about 5 minutes on each side- Came out amazing - Quick, Easy and Flavorful
Love this store.
The quality of the olive oil and the olives is so like what we discovered in the wonderful places in Italy and Spain.