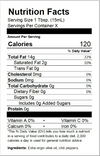 What makes our Olive Oil special?
We always have fresh olive oil every 6 months. Olives are only harvested once in each hemisphere. With our connections to small farms in the Southern Hemisphere, we are able to take advantage of a 2nd growing season which allows us to provide you with fresh olive oil every 6 months.
WHAT MAKES OUR OLIVE OIL SPECIAL?
Pizza Chef Translation
Unique and sharp in flavor
My favorite flavored oil
I love many of Lot22's products, but this one is special because it has such complex flavors with just a hint of peppery punch. Just used it tonight to flavor a casserole of squash, heirloom tomatoes, onions, and potatoes, and it made the dish absolutely shine.
Thankful for their products
Feels good to see such high quality olive oils in the US. They have what should be called olive oil. Other olive oils don't live up to their names!